Completely Personalised Martial Arts Training At Home, Work, Or Wherever Life Takes You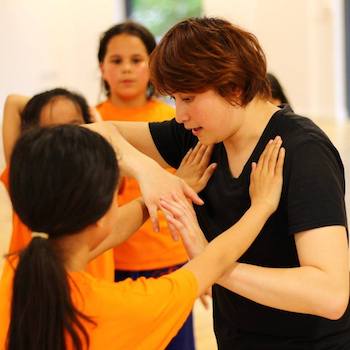 Wutian Martial Art Institute is proud to offer Private Martial Arts Training that will help you take your martial arts skills to the next level. You can train with us here in Camden Town on a schedule that suits your needs or we can bring the training to you at your home, at children's clubs, or anywhere else! Train with your family, your friends, or your coworkers by booking Private Martial Arts Training to teach at your own pace. We've combined Wing Chun, Jiu Jitsu, and Kickboxing techniques to ensure the most practical self-defence training you can find in all of London.
Private Martial Arts Training Is Designed For You
From corporate team-building to offering practical self-defence training for schools to giving you and your child the opportunity to bond over something new and exciting, our Private Martial Arts Training is completely bespoke. Reach out to our team at Wutian Martial Art Institute and simply tell us your goals -- we're happy to recommend a training plan that will suit your individual needs. You can train with us on-site at our location in Camden Town or we can come to you at your home, school, or workplace.
Getting personalised martial arts instruction will allow you to train with confidence, on your own schedule, and get the fast results you deserve. No matter where your journey takes you, it begins with Wutian Martial Art Institute.
Our Private Martial Arts Training can offer you:
Easy scheduling & your choice of location
A customised training regimen
Focus on self-defence, forms, or anything else
The opportunity to train with people you care about
Reserve Your First Private Martial Arts Training Session at Wutian Martial Art Institute Today!
Our expert team is proud to work with people from Camden Town, and all over London! No matter your fitness level or prior martial arts experience, we can connect you with high-quality instruction appropriate for your goals and ability. It's as simple as reaching out to us at Wutian Martial Art Institute and talking with us about what you hope to accomplish.
Our Private Martial Arts Classes Are Located In